Name: Aristotle and Dante Discover the Secrets of the Universe
Author: Benjamin Alire Sáenz
Published: 2012
A book hasn't left me this… shook up in a long time.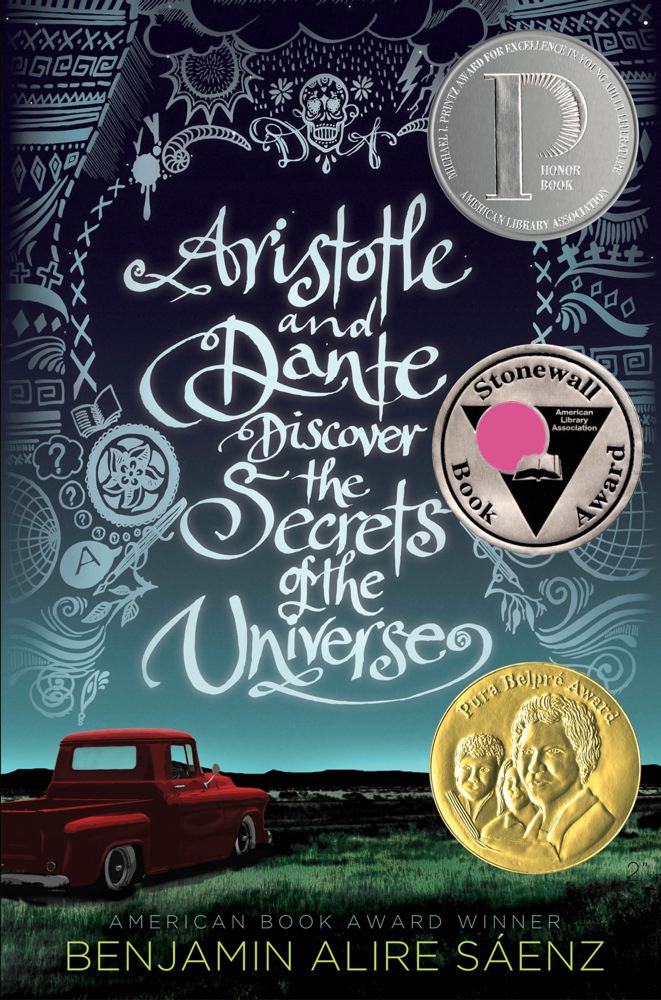 Dante can swim. Ari can't. Dante is articulate and self-assured. Ari has a hard time with words and suffers from self-doubt. Dante gets lost in poetry and art. Ari gets lost in thoughts of his older brother who is in prison. Dante is fair skinned. Ari's features are much darker. It seems that a boy like Dante, with his open and unique perspective on life, would be the last person to break down the walls that Ari has built around himself.
But against all odds, when Ari and Dante meet, they develop a special bond that will teach them the most important truths of their lives, and help define the people they want to be. But there are big hurdles in their way, and only by believing in each other―and the power of their friendship―can Ari and Dante emerge stronger on the other side.
I'm still trying to figure out how I feel. For years, this book has been on my WTR list, then my shelf, and I kept putting it off to read what I was certain were worse books. Now, I'm not sure they were. Whilst this was pretty amazing, I had so high expectation that I'm left feeling kind of unsatisfied. Have you ever done that? This wasn't a romance. It wasn't even a book about romance. Although, it was a book about so many other things. Sáenz wrote beautiful characters, beautiful sentiments, but are they really things a sixteen year old would say?
This is me trying to work out my feelings.
"There was nothing but darkness and sheets of rain and the awe of our silence. My mom held my father's hand. Storms always made me feel so small. Even though summers were mostly made of sun and heat, summers for me were about the storms that came and went. And left me feeling alone. Did all boys feel alone? The summer sun was not meant for boys like me. Boys like me belonged to the rain."
I was going to talk about the plot, but there wasn't really one. There was and there wasn't. No clear lead up to a final scene, but it worked for the style of the book – although I would have preferred a bit more character development from Ari.
It was sad. I'll give it that. It made me feel down and kind of thoughtful, in the way only some things can. I was reminded of Call Me By Your Name by André Aciman (although I have to admit I've only seen the film… *runs away*. I'll get there eventually!) Aristotle and Dante Discover the Secrets of the Universe wasn't dramatic, there was no big reveal or shocking conclusion. I liked the mellow tone of it.
"I knew a part of him would never be the same. They cracked more than his ribs"

– The (first of many) line that made me cry
Like I said before, some of the things Ari said felt a bit off for a teenager. It might have worked better in third person? I'm still figuring out my opinions on the characters (on a lot of it really.). I do know that most teens aren't that open with their parents. I didn't like how Ari only (eventually) realised his feeling through his dad literally having to spell it out for him. But apart from his total lack of embarrassment, Ari felt very relatable and real… even if his lack of social interaction got a little annoying. Although, that was pretty relatable too haha.
After some thorough googling, I found that there might be a sequel and got excited! But then kind of sad because all the comments were people raving about how 'If it comes out in 2017, I'll be so annoyed for the wait!'. I really hope There Will Be Other Summers (even the title: ahhhh) won't just be postponed – although I suspect we'll all be waiting for a while.
Any (and I mean any) information on the sequel will be excitedly accepted.
Finally, I read some reviews that hated on the writing, but I loved Sáenz's poetic style. There were few long sentences, but it worked – often, the dialogue was simply just dialogue, without any 'he said this'. It made it very engaging; I read in just a few sittings.
So yeah! This wasn't my usual style of review post (far less puns) but this wasn't a usual book.
I think I'll be thinking about it for a while.