The book is always better than the film, right? That's a rule I almost always live by. But there are some exceptions (I binged the Netflix version of Lemony Snicket's A Series of Unfortunate Events during lockdown, and I hate to admit I preferred it to the books. At least in this, Snicket's lengthy explanations of words are read by Patrick Warburton in weird costumes.). Last week, I watched The Perks of Being a Wallflower for the first time; I didn't really have high expectations after reading the book. For me, the tone of the book was good, but I didn't connect with the characters. It had a good plot, but I was left feeling down – and a bit confused. But the film?
The film was amazing.
*Cue dramatic intro music*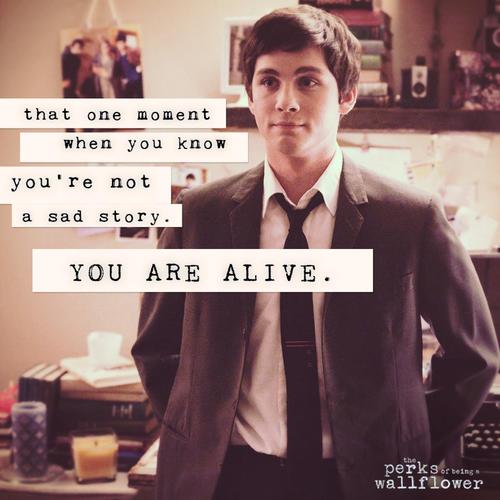 I'm struggling to pinpoint my favourite part. Everything was just clearer, without spelling out the obvious, in a way that the book lacked significantly. Often contemporary books leave you to read between the lines, but when I'm googling 'what the hell Aunt Helen did', I think it's gone a bit far. Some sections of the book felt corny; often monologues about life and love feel much better put to music and a montage of friends laughing silently. Although, I'm still not sure about the whole 'we are infinite thing', from my experience (and trust me) it's not really the sort of thing that a 15 year old would say.
Which brings me to my next problem: how old is Charlie? I'm english, and I get a bit confused sometimes about the whole grade system – although I'm sure it's vice versa. I'm pretty sure Charlie is only 14/15… and he doesn't act it. The handsome, older teen Hollywood had cast didn't fit the Charlie in my head, although Logan Lerman was a good enough actor. However, Ezra Miller was totally the Patrick i'd envisioned; this was the first film Emma Watson had starred in since Harry Potter (we love Emma Watson). It's certainly not about a magical school, but I really enjoyed The Perks of Being a Wallflower – I'd be interested to read the book again and see how it compares. If you know any other great coming-of-age type films, or just good book adaptations, please like and let me know in the comments!
The Perks of Being a Wallflower in 5 Photos
---
Are you not sure what books to read for summer? Would you like to take part in a really simple and fun Reading Challenge?
Find the prompts here, and then borrow, buy, steal or ebook books to fit them. I'd love for as many people as possible to take part in my first original book tag. Happy Reading!