Hey everyone! Top Ten Tuesdays is one of my favourite book tags (AKA the only one I really follow), and I thought that the prompt for this week was a great idea. If you've tried it, feel free to link your post in the comments and I'll try and check them out. Have you read any of mine?
1. Isla and the Happily Ever After
If you've followed my site for a while, you might have learned of my love for this series. I was hoping Stephanie Perkins would write more books in this style, but she seems to have moved on to horror? Isla and the Happy Ever After was the last book in the series; all of the characters came together and it was just so flipping HAPPY. We love that.
*
2. Twilight by Stephenie Meyers
I could never bring myself to review this series. Now, if you take away the emotional abuse, the racism against indigenous people, the misogyny, the creepy stalking and most of the plot, this isn't a bad series. But, that's quite difficult. After the release of Midnight Sun, I lost the little respect I had for Stephenie Meyers' letting the series die (unlike, I dont know, J.K Rowling!). Not only is her strange obsession with fruit back on the menu… but she doesn't seem to have realised that I read most of this book online when I was 13??
*
(I know I didn't love it but I wanted to mention it).
3. Martyn Pig by Kevin Brooks
This was a clever, creepy mystery that I read on holiday a few years ago. When I bought it, it was more underground, but I've seen some reviews that say it's generated a cult following since then…
*
*
4. Toffee by Sarah Crossan
Sarah Crossan is my favourite prose author ( AKA the only one I've ever read. Although I recently bought a book by Elizabeth Acevedo that I can't wait to try). I've reviewed my favourite, We Come Apart, but I also loved that Toffee had a sense of mystery about it as well as a great message.
*
5. Perfect by Cecelia Ahern
I've mentioned the Flawed series a few times before, but never reviewed them. It's just become one of those books I was always going to review… and then when I finally have time, I find I read them too long ago to remember anything. However, I am left with a sense of a great book; everyone I've lent them to has loved it.
*
6. Dorothy Must Die by Danielle Paige
In my local bookshop, I took one look at the cover of this book and went straight to the counter. I instantly loved the characters and how the author had made the world of Oz so dark. But, I was put off by the fact that it was a longer series and haven't read further than the first.
*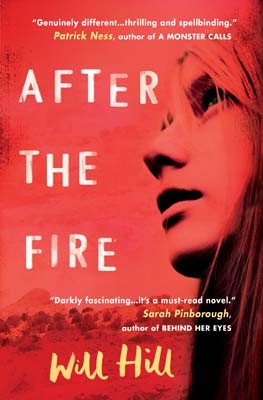 7. After the Fire by Will Hill
You're right, random author on the cover. After the Fire is a must read-novel for both young adults and adults alike. In a really fresh and engaging way, it covered topics that are rarely tackled well.
*
*
8. S.T.A.G.S by M.A Bennet
This is one of my favourite YA thrillers, and I'm very excited to discover that the third book is coming out this month. Also, I've always been impressed how this author has managed to design all of her other books, whether they're in the series or not. A bit like Karen McManus of One of Us is Lying…
*
9. Murder Most Unladylike by Robin Stevens
I love these books so much. I don't know how, but it's been one of those series that I've never gotten around to reviewing. Murder Most Unladylike was devoured by a much younger me and I've been following the series ever since. I can't believe that the finale, Death on the Nile, is out already! It feels like the end of an era.
*
10. The Maze Runner (just all of them) by James Dashner
I NEED TO REREAD THESE BOOKS. I adored them on my first run through, but like a few series, I think I tried them too young to properly understand how great they are… especially as there's now five books?
*
(check out this photo, my nerdy side got extremely excited.)
---
Are you not sure what books to read for summer? Would you like to take part in a really simple and fun Reading Challenge?
Find the prompts here, and then borrow, buy, steal or ebook books to fit them. I'd love for as many people as possible to take part in my first original book tag. Happy Reading!