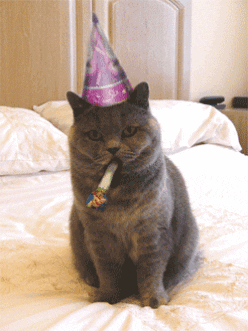 It's my birthday today! I've been looking forward to it for a while, and all the shops are starting to open up again, which is pretty great timing. I've got my fingers crossed that next year will run a bit smoother than this one…
I first saw this tag at The Perks Of Being A Nerd and I thought it looked really fun. So here goes!
Birthday Cake
A Book With A Plot Twist That Seems Cliche But You Love it Anyway
Anna and the French Kiss by Stephanie Perkins
You can probably guess what happens in this book just by the cover – but I love it anyway! This whole series always makes me smile.
Click HERE for my review of this book
Party Guests
Your Most Anticipated Book Release Of This Year
Harrow The Ninth by Tamsyn Muir
The sequel to Gideon the Ninth is released on the 4th August and is probably one of the birthday presents I'm most looking forward to! I only recently read the first book, but I really enjoyed it and can't wait to see how Gideon and Harrow's relationship progresses… now that Gideon is… inside Harrow's brain?
Click HERE for my review of the original
Happy Music
A Book With Some Beautiful And Truly Memorable Quotes
Crooked Kingdom by Leigh Bardugo
Leigh Bardugo's characters always have the best lines. Hands down, she writes the best dialogue I've ever read. And whilst this book wasn't really filled with moving, coming of age quotes, there's a serious amount of sassy bad-assery in it. Which works for me!
Click HERE for my review of this book
The Happy Birthday Song
A Book That Deserved All The Hype It Got
Good Omens by Terry Pratchett and Neil Gaiman
Originally, I only bought Good Omens to watch the show (I couldn't bear the thought of reading a book after watching it). However, it was hilarious – and I thought the adaptation was one of the best I've ever seen.
Click HERE for my review of this book
Birthday Presents
A Book That Surprised You With How Much You Loved It
The Starless Sea by Erin Morgenstern
I randomly picked up The Starless Sea. It was my first read by this author, and I definitely want to try more of her books! I loved her style and the whole world she created was just amazing. And of course, who can argue with that cover?
Click HERE for my review of this book
Getting Older
A book that you read a long time ago, but you think you'd appreciate more if you read it as a more mature reader
Noughts and Crosses by Malorie Blackman
I read this book 4 years ago and wasn't the biggest fan of it. But looking back, I'm not sure I totally understood all of the themes and I want to reread it soon, especially as it contains a lot of really relevant issues.
Click HERE for my review of this book
Sweet Birthday Memories
A book that kept you incredibly happy during a sad or demanding period of your life
Simon vs The Homo Sapien's Agenda
This book deserves to be reread and reread and reread. IT'S SO AMAZING (That's it, that's all I need to say.).
Click HERE for my review of this flipping awesome book
.
.
That was the birthday tag! I really enjoyed doing it – when's your birthday?